Facebook Page Available
SEE FACEBOOK PAGE
Join Us Sunday Evenings for a Bible Study in the Epistle to the Hebrews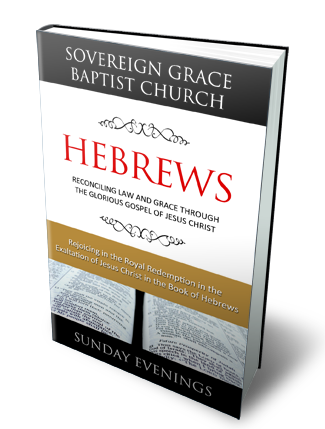 As we have just finished sixteen months studying the Old Testament book of Leviticus with a special emphasis on understanding its fulfillment in the person and work of Jesus Christ, we begin a new Bible study on Sunday evenings in the New Testament Epistle to the Hebrews.
Join us on Sunday evenings at 6 pm in worshiping the Lord Jesus Christ and rejoicing in an exploration of the book of Hebrews. Although the book of Leviticus has provided us with an excellent foundation to understand the doctrinal treatise of Hebrews, rife with admonitions and exhortations as if the letter were preached to a congregation, if you've missed any studies in Leviticus, you will not be left behind in the least.
Not only will we rejoice in the centrality and supremacy of Jesus Christ and Him crucified, resurrected and coming again in the study of this important New Testament letter, we will also examine the theology behind this work in order to reconcile the truths of God's law and His grace.
The "Introduction" for this awesome Bible study will begin on January 10, 2016 at 6 pm.
We look forward to worshiping with you at Sovereign Grace Baptist Church.